Community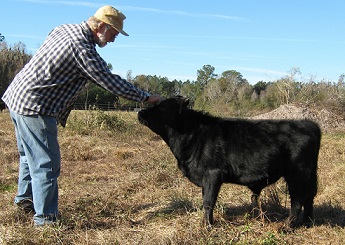 It's been a great month! We have accomplished a lot: fence-building, working on kitchen 2 and the river place, and weeding and mulching in preparation for springtime growth. But what has been really great is that we have had opportunities to meet some wonderful members of the community of North Florida farmers.
First, there are Lisa and Walker--owners of Sweet Lil Wee Farms. We attended their open house and found in them two kindred spirits--two people who have had other life options but are choosing the life of a farmer and understand the challenges of farming. We look forward to sharing our experiences and learning from them.
Then, there is Debbie Driggers of Delta Shamrock Farms. She bought Wester, our littlest bull, because she breeds mini-minis. She was looking for a mini-bull for her little herd of Dexters and mini-Herefords and Wester was perfect. We were relieved to not have to butcher him--though that still leaves Easter--a last bull calf from this year for us to butcher.
Meeting fellow farmers like these--folks who understand the joys and pain of farming--is such a powerful blessing. We are very thankful for them.
Posted by Roberta or John at 6:53 PM EST
Updated: Sunday, 15 December 2013 7:27 PM EST