Oh no...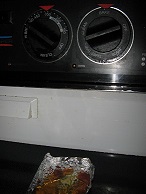 Well, it has happened again--I've gone over a month without blogging! So, I give up. It will happen when it happens. Sorry Eric!
My latest adventure is a free online cooking class hosted by Harvard University as part of Massive Open Online Courses (MOOC.) I'm really enjoying it. The class is called "Science & Cooking: From Haute Cuisine to Soft Matter Science." There is a lot of math in it (which I am loving) and also a lot of chemistry (not loving so much.) This is only my first week but I am learning a lot.
The picture you see is me checking the calibration of my stove. We did this by putting a 1/2 Tablespoon of sugar in our preheated ovens (set at 350) and then checking the sugar after 15 minutes. If it hadn't melted, we were supposed to raise the temp 10 degrees (or, in the case of my analog stove, 25 degrees) and check again after 15 minutes. We were to repeat this process until the sugar melted. Since sugar always melts at 366 degrees, it should melt in a properly calibrated stove between 360 and 370 (or 350 and 375.) I am happy to report my old, beat-up, worn-out stove did just fine. The fancy new one in the processing room however...
I had previously taken a solar energy class but I couldn't handle the technical aspects--it was pretty hardcore. If you haven't taken a free online class, check out MOOC-List for a lot of great stuff. I'm thinking I'll try a literature class next. :-)
Posted by Roberta or John at 11:23 AM EDT
Updated: Friday, 11 October 2013 11:47 AM EDT