Eric
Mood:
chatty
Our friend Eric has told me he routinely reads our blog but he gives me a hard time about the amount of time that passes between posts. So, I made a promise to myself that this month I would try to post more often. Nearly every day I have had an idea for a posting--thoughts on the webworm caterpillars defoliating our trees (who knew this American native is a European invasive!), the epiphany that happened as I was destroying a paper wasp nest (THEY FEED CATERPILLARS TO THEIR YOUNG!!), the pineapples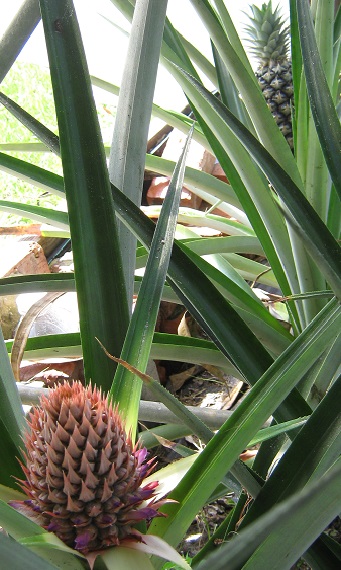 that are ripening in the greenhouse (if the webworm caterpillars don't eat them first!!), the nature of cattle, fences, the subtle changes in the weather (have you been feeling those fall breezes?)--there is always something to write about. This is partly because many of the jobs on a farm lend themselves to meditations on life--weeding, or working on fences, or starting seeds in the greenhouse, or walking back from the pasture. Having something to think about is not the problem. So, what is? I don't know--remembering to actually do the posting?! :-)
Today I remembered so here's my latest entry--for Eric. (Hi Eric!)
We didn't have much of a pear crop this year because we had a cold snap after most of the pear trees had just blossomed. Only the late bloomers (like the Kieffers and Orients) had a yield and it was not a big one. However, Deb and Khrys's tree is next to their house so that warmth followed by the intermittent rains means they have a LOT of pears. When they offered to share their bounty, we jumped at the chance.
When we got home, the work began--deciding what to do with them!! We need to conserve freezer space because come fall, we will have chicken and beef to put in it. I thought about canning them but neither of us like canned foods. It doesn't seem to matter whether the canning is done by a corporation or a family member. My grandmother and mother both canned and while I loved the spiced peaches, I don't like the "dead" taste that seems to come from the high heat required of canning. It is as if all the energy has been destroyed. So, what to do with these pears.
Well, this year I have been doing a TON of dehydrating. I've done tomatoes (which I then used in breads, crackers, and soups), blueberries (a quart of blueberries shrinks down to less than a cup!), grapes, figs (dehydrating changes them from something John won't eat to something he enjoys--and it's a LOT less work than making fig newtons!), and our small crop of apples and pears. So, my first thought was to dehydrate these pears as well. Then Deb mentioned fruit leather . She also loaned me some trays to make it easier, suggested adding nuts (for protein), recommended keeping the mixture as dry as possible (to dehydrate quicker), and showed me how she removes the pear from the core rather than the core from the pear (HUGE timesaver!!) So, I was on a mission!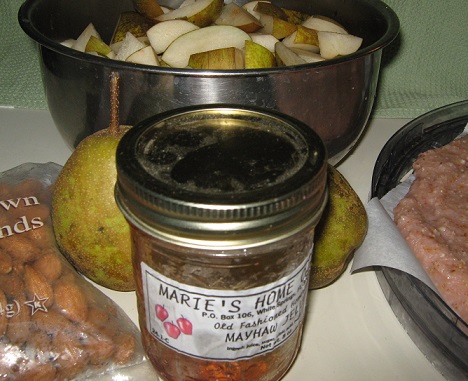 Well, I LOVE the fruit leather!! It tastes a bit like a really healthy gummy bear. I made up several recipes. For all of them, I first cooked the pears. (These are, after all, good ole Florida sand pears!) Besides, I wanted to keep the skins of these beautiful organic pears for the fiber and nutrients. Cooking makes the skins softer and more enjoyable to eat.
I knew I wanted a little bit of sugar, but not much, so for one batch I blended in some of Marie's famous Mayhaw jelly. Although I admit it doesn't look that great before it is dried (it's the up-chuck looking goo on the right side of the picture) but when it is dry, the colors and the taste become more concentrated. YUM!!
I also made a batch with my berry jam (see earlier post) and a batch with herbs from the garden (cardamom leaves, holy basil) and some ginger. There were still some cooked pears left over so I put them in some canning jars in the fridge. I didn't process them but we can get them eaten in the next few days. We love fruit in the morning with our fresh eggs and home-made bread.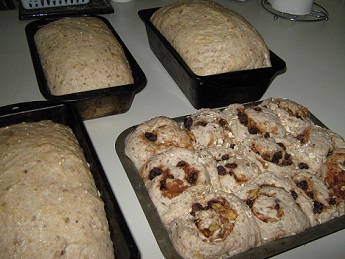 Now, I am nearly done with the day--just waiting on the current batch of bread and cinnamon rolls to do their final rise before I put them in the oven. As I sit here, it finally occurs to me why I don't get around to doing more of these posts--I'm tired! But Eric, you are worth it. :-)
Posted by Roberta or John at 3:18 PM EDT
Updated: Monday, 26 August 2013 5:08 PM EDT