Experimenting
Mood:
energetic
One of the challenges we have is finding ways to preserve the goodness of fresh foods so we can enjoy them in the off seasons. We freeze, can, and dry fruits and vegetables. I also make preserves. The problem is that while I love jams and preserves, I don't like all that sugar. However, without sugar, you get syrup.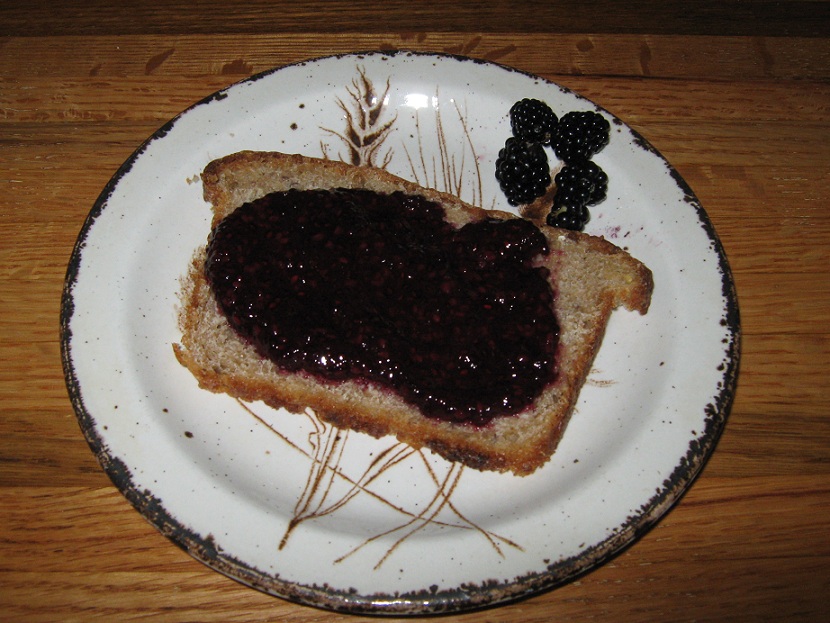 So, I tried something suggested by Diane, my nephew's fiance. Diane gave me some Chia seeds and suggested I use them as a thickener. I only knew Chia as the "hair" on a chia pet so I was surprised when she recommended them but I am very happy with the results. Here is what I did.
I cooked 3 cups of fresh blackberries in their own juice for 5 minutes (long enough to incorporate 3 T of Mexican cane sugar) and then put the mix through a Foley foodmill to remove some of the seeds. Next, I added 3 T of Chia seeds. This yielded a full pint of jam with just enough extra to eat now! As you can see in the picture, the extra jam looks wonderful on a piece of homemade bread. It also tastes great because the Chia adds bulk without overwhelming the flavor of the berries in the way that sugar does. Thanks Diane!
Posted by Roberta or John at 1:19 PM EDT
Updated: Sunday, 23 June 2013 1:45 PM EDT