April already?!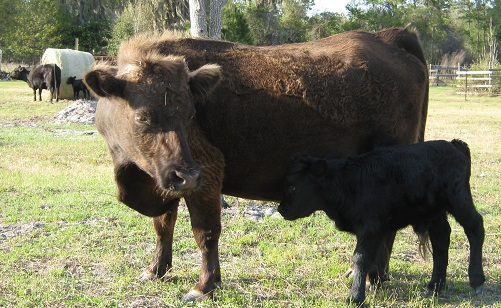 OMYGOSH it's mid-April already! Since my last post, the other two mamas had their calves. We now have a full complement (3), Cinder, the female mentioned in the previous post, Wester born 5 days later and Easter born on, you guessed it, Easter day. The last two, unfortunately are male (or "fortunately" if you either love veal or are Winston--the bull who had have to go if we kept his daughters.)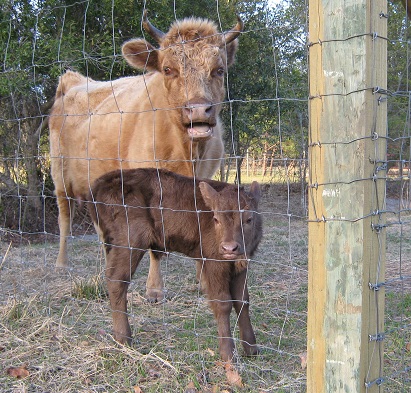 Wester is in the picture on the left and Easter is to the right (east-ha!) Mama and Cinder are in the background next to the bale of hay. I've been milking Mama daily since three days after Cinder's birth. She continues to tolerate it (though she gives me a look that tells me she things I am a weirdo.) I only get about a pint of milk a day but that is enough to keep me in milk and allow me to make a bit of yogurt. I'm very thankful and don't like to think about what the future inevitably holds for her--she's our oldest cow.
We also have 6 little chicks hatched by one of the black hens. She's been a great mama so far--a relief since our two best moms were killed by a local bulldog. Why is it alwasys the good ones who get caught?! I especially hated to lose the little hen who last year single-handedly raised two broods. She was the best mom I've ever seen--training her babies to eat bugs, avoid fluttering helplessly around kitties, and raise a big ruckus when something bad is trying to get into the pen.
We have the garden about half in. It is still missing the hot weather crops--peppers and okra. The peppers in the greenhouse were killed the night it went down to 27 degrees (the night after Wester was born! It was so cold, he didn't get up to poop and ended up with a bad case of pasty butt that nearly did him in--ask us and we will give you ALL the details!) A lot of things got killed that night including any hope of a crop from the pomegranites. However, the blueberries made it through. Since they are our biggest crop, that was a relief.
We are trying something new to help build our soil. We have planted some patches of hairy indigo--a legume that the cows love and that is tolerant of low-fertility soils. we are hoping it will build the soil and that we will also be able to get a cutting or two off of it for the cows. We seeded it on a rainy day but hadn't had any rain since it germinated. It was at critical stage yesterday but, thankfully, today it rained. The seed cost $150 a bag so we were VERY happy to see the rain. It is another reminder that we humans can plan and set goals but in farming, it really isn't up to us. God laughs (and it isn't usually a santa-belly-laugh.

)
Posted by Roberta or John at 3:16 PM EDT
Updated: Sunday, 14 April 2013 3:58 PM EDT