It's spring!
Mood:
lucky
FINALLY, we have our first calf of the year. We have been expecting one since late December (obviously there was a miscalculation!) and, at last, it is here! What a little cutey. It was born very quickly--we did the chores this morning and wondered if Mama was going to have it today. I checked on her before noon and the calf was up and trying to nurse! I would say I expect Buffalo Girl to deliver today but I have been saying that any number of days now!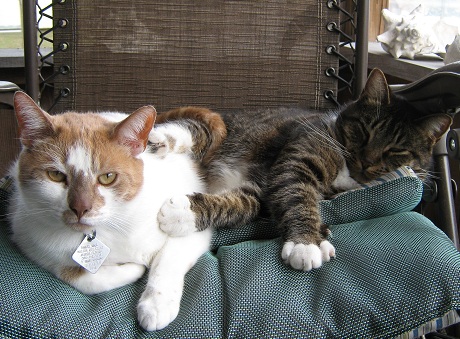 We also have a chicken setting on some eggs (since last weekend) and lots of blooms! Although the Mayhaws got frosted at absolutely the wrong time, the pears and blueberries are looking good. It just might be a productive year despite the odd hot/cold spring weather. We are hopeful.
It has been great porch weather. As an example of how good it has been I am posting a picture of our two boys--one happily lounging and using his brother as a cushion, the other annoyed at me for waking him.
Posted by Roberta or John at 12:03 PM EDT
Updated: Sunday, 24 March 2013 12:13 PM EDT