Hobby Farm?
Mood:
lyrical
Two weeks ago we had a flood that forced us to finally accept that times are not right for us to have a profitable farm. Although up until then we hadn't yet given up, a quick glance at our records and accounting would have shown what was in the cards.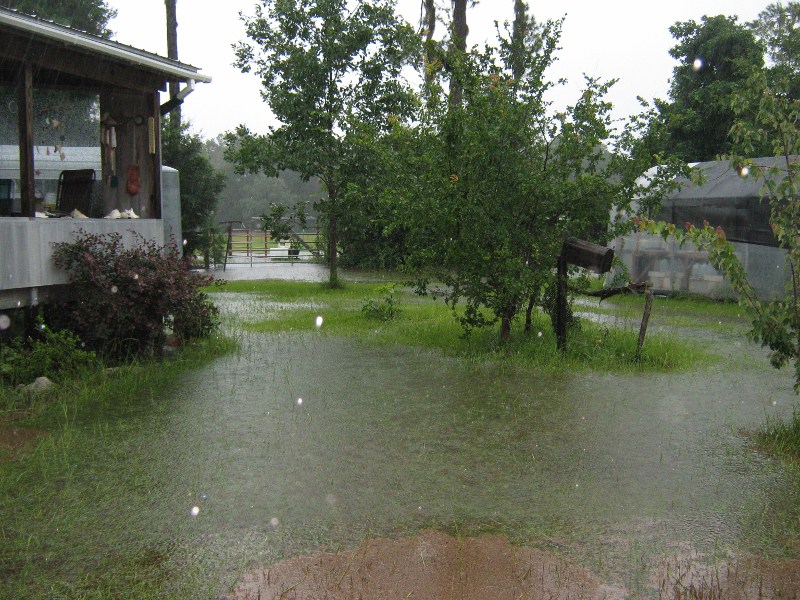 Up until two weeks ago were were still thinking we could make a go of this. John had completed our roadside stand; the chickens were producing eggs; the garden was going bonkers (we finally figured out a way to keep the chickens out of our veggies.) Then, we had 16 inches of rain in 27 hours. In that short time we lost most of our garden and our hope for sale-able produce. In addition, the chickens were traumatized and egg production went down the drain. In addition, animals driven by the rising waters to higher ground finished off the blueberries. The rains were too late to save the blackberries decimated by months without rain. It was too much too late.
However, this isn't the end of our farm. It is just a temporary stay in our efforts to be profitable. It is a switch to what the tax man calls "hobby farming." For now, we will put most of our energies into other endeavors--blacksmithing, teaching, yoga, and other projects. Meanwhile, we will continue to experiment with sustainable methods and let the farm help us cut our food bill and provide us with heathier choices.
And, some day, it may be profitable to have a small farm. When that time comes, we will be here ready to begin again.
Posted by Roberta or John at 5:44 PM EDT
Updated: Sunday, 15 July 2012 6:20 PM EDT