The Cycle
Mood:
vegas lucky
Wow! It has been nearly two months since I last blogged. How time does "fly".:-)
Today as we were working with our french drain compost piles, I was thinking about the cycles of the earth. With apologies to the Suwannee Bicycle Association, they are not the cycles I was thinking of. I was thinking of a question a friend asked a few weeks ago--how do we improve our soil. I tried to explain but he didn't seem to get it so I was considering how I could better explain.
I think the problem is that there is a simple, commonly accepted way to improve soil nutrients. Simply add 10-10-10 to the soil--what I call the "Git-ur-done" method of soil improvement. It is fast, easy, controllable so why wouldn't we want to do this?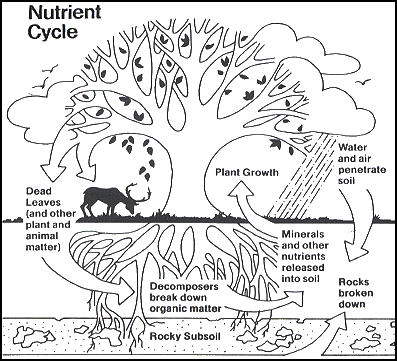 My reply was that while this is one way to insert nutrients into the cycle, a method used by many folks, we had chosen to move to a different point on the cycle to interject the nutrients. We interject them through our livestock (see the deer in the image.) It was in there somewhere that I felt I had not explained myself.
Here's where we all agree--the nutrient cycle is a closed loop--nothing is created but only recycled. In order to improve the amount of nutrients available in the loop, some must be inserted. We agree but we insert the nutrients into the animals rather than directly into the soil. In other words, calcium deficient chicken raised on calcium deficient soil will lay calcium deficient (easily broken) eggs unless their diet is improved. (We use oyster shells.) If their diet is improved, excess calcium will be defecated which will improve the soil. Similarly, cattle raised on mineral-poor soil will lack minerals. If their diet is improved by adding to the grass they are eating (we use molasses), the extra minerals are defecated into the soil. Even better, if their bones are returned to the soil, the soil becomes even richer with all the vitamins and minerals which means the soil is more able to support the next generation without amendments.
So, rather than feed our soil, we feed our animals. We feed alfalfa cubes and vitamin rich food wastes. We feed grain to our chickens. We feed them our neighbor's corn husks and cobs--corn that was fed by him. We then use the animal wastes to feed our soil which then feeds the plants our animals eat so that their diet is improved. That is the cycle I was thinking about this morning and that I tried to explain to our friend.
It is true this approach is slow. The soil is built up over years rather than days. But, this slow approach and cyclical thinking is central to sustainable farming and sustainable living. Perhaps our pace of life is an anachronism like our unwillingness to carry a cellphone everywhere we go or our willingness to live in an old small manufactured home. Perhaps it is because we are odd that it is hard to understand what we are seeing and doing. Regardless of the reason, I truly believe it is worth trying to explain--more and more folks are thinking oddly like us.
Posted by Roberta or John at 12:46 PM EDT
Updated: Saturday, 12 May 2012 1:39 PM EDT