Fly Girl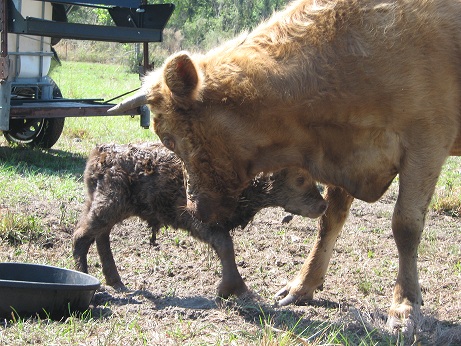 Calfie (the last of our pregnant cows/heifers) had her baby Thursday. Calfie (Rosie's daughter) gave us our first girl calf. We named her "Fly" partly because she is so cool and partly because the mild winter did not kill all the stable flies so she is..."fly." Sorry, too much time at the farm will do that to you.
In this picture, Fly is about 25 minutes old. She is the first baby for Calfie (and she is a female) so she is not as large as the bulls were when they were born. She is also the first truly brown calf we have had. What a little cutie!
It has been interesting watching her with the herd. They were SO excited when Hoppy was born and still very interested when Dusky joined the herd. However, little Fly's presence garnered interest only from the calves--everyone else has become quite blase'.
Posted by Roberta or John at 9:05 PM EDT
Updated: Sunday, 18 March 2012 9:15 PM EDT