The sun also rises
Mood:
happy
I apologize for my last message. Sometimes in December when the days are short and the sunlight is scanty, it is easy to feel overwhelmed. This morning, I heard the guns from the deerhunters, I heard something making a haunting cry, and I saw the sun rise. Life goes on.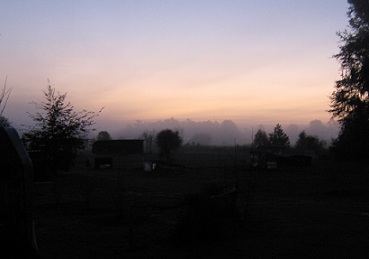 This morning I was thinking about how my generation (lagging boomer) was all about reinventing ourselves--which for many of us meant "throwing off the oppressive shackles of family histories" and moving to someplace where we can begin anew. I see generations younger than me who seem to understanding that we cannot avoid our history so we have nothing to gain by all this frantic movement. Instead we lose our roots--our connections to a people and place. As I grow older, I see the tragedy in that.
John and I lived the longest we have ever lived anywhere when we lived in Waycross. Leaving Waycross meant leaving a history we share with many, many students. I find I miss that sense of shared history and it has encouraged me to commit the necessary energy to making a history here. We already have the beginning of roots. We spent so many years connected to this area through our friends--Eric and Becky Larsen, Johnny Bullard, the Prices and the McKenzies. We have a history with the Suwannee River. We our connected to our land. And we have the opportunity to broaden those roots through connections with young people in our local schools. I think I see a new year's resolution--and a new year--rising with the sun.
Posted by Roberta or John at 7:04 AM EST