Of pumpkins and other things
Dennis gave us a huge pumpkin that he had grown on his place. Ironic that it did for me what it did for Cinderella--transported me to a bright and shining place. Here's the story.
If you live nearby, you may have noticed it has been HOT. Not only that, it has also been HUMID. Even sitting on the porch drinking ice tea and rocking in a chair is hot and sweaty work.
This past week in this heat and humidity we have been prepping the land for the coming growth spurt. Now is the time when the citrus, blueberries, and blackberries put on their greenery--the greenery that will hold blossoms in the spring. Therefore, it is important to decrease their competition for nutrients and water. So, we have been busy cutting and pulling weeds. While it feels good to see the plants smile, in this heat the work is taxing. Since we are not using chemicals, all of this work must be done one plant at a time by hand so we have been at it for a while.
Then, like magic, Dennis gave me the pumpkin. Suddenly, I had an excuse to stay in the house. I had a reason to take a break and let me body rest. Best of all, I got this rest guilt-free because I had to work on that pumpkin. It took four hours to cook, strain, and process that pumpkin. I ended up with 40 cups of pumpkin, seeds saved for next year, slop for the chickens, and pumpkin soup for dinner. (Did I mention that it was HUGE?!) Today, the bounty (and the break) continues. After morning chores, my mom made pumpkin pie and I made pumpkin bread.
Because of the welcome break from working in the hot fields, I can see again the beauty that surrounds us, the joy of living close to the earth, the immediacy of the rewards for the work we do. I am Cinderella at the ball.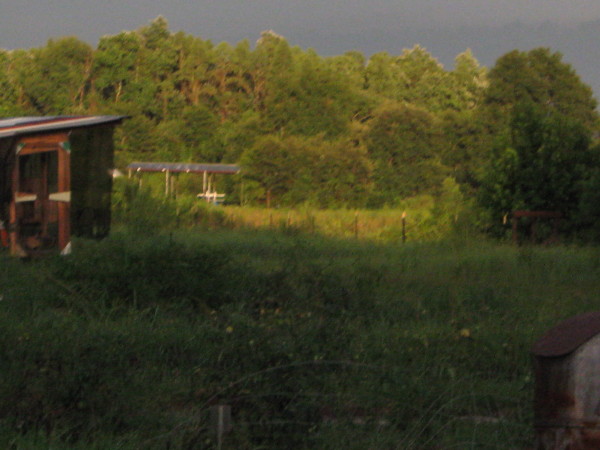 Posted by Roberta or John at 12:15 PM EDT
Updated: Sunday, 25 July 2010 12:43 PM EDT