Farm babies!
Mood:
celebratory
I can't believe it has been MONTHS since I wrote anything!! Where does the time go?!
We have been VERY busy. We are trying to stay up with the weeds (pulled by hand), the caterpillars and other leaf-eaters (picked off by hand), the garden (started from seeds), and the new fence and building construction (done by us-with occasional help from Danny and Eric.) Farming sustainably is constant and continuous work.
But, it is also great fun! Yesterday was the birthday for this year's first batch of chicks. We are the parents to this group but we have 3 broody hens and one Dexter cow who will (hopefully) be joining us soon. I love watching the chicks grow. Yesterday was all about sleeping. They could teach us all a thing or two about deep relaxation. Today, however, it is all about running. What fun!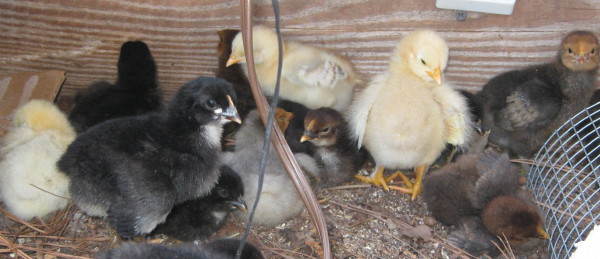 Posted by Roberta or John at 10:19 PM EDT
Updated: Wednesday, 19 May 2010 7:35 PM EDT