Spring Break--and so much catching up to do!!
Now Playing: FINALLY--the hothouse update.
Things have been hopping here at Lacefield farms.
First, I am finally ready to post pictures and video (thanks Walter!) of the hothouse raising--just in time to tell you the sad story of our hothouse experience.

Pulling hothouse Plastic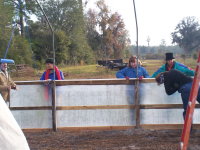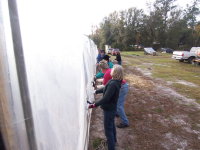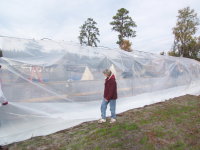 Second, we will get our cows on Friday--YEAH!! But, I will wait to tell more about that after Friday when we have pics.
Third, the chickens are popping out eggs, we are on track for pastured poultry in April, we're getting enough rain, the greens did well this year, the potatoes are in, the fields have been limed, the blackberries, apples, and pears are almost weeded, trimmed, pruned, and the corral is ready for the cows (but needs a name. OK?

)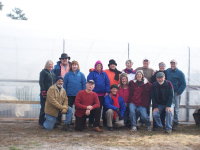 Now for the hothouse update: The day we pulled the plastic was a happy (though VERY cold) day with a real sense of accomplishment. The sad news is that the fierce rain we had in February collected in a lose spot in the plastic. The weight busted 4 supports and pulled in the end of the greenhouse. We are now working on plan B.
Posted by Roberta or John at 6:18 PM EDT
Updated: Wednesday, 17 March 2010 7:58 PM EDT