Fall Bounty
With the HOT (think August) temperatures, some of our summer produce is lingering on. I love the colors of this fall bounty.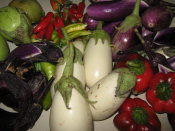 That is the good news. The bad news is the heat and lack of rain is destroying our traditional fall crop of cole-family vegetables (greens, brussel sprouts, kale, etc)
John finished the chickhouse so in the spring we will be ready for grass-fed broilers. We are on the lookout for a heifer to raise up to be milked. Our big push now, believe it or not, is the hothouse because LAST October we had a freeze. While that's nearly impossible to imagine, we must be ready. Our hothouse is already loaded with citrus trees and pineapple plants. I call it the "orangery" and can hardly wait for those cold winter days when being in there will be a joy.
Posted by Roberta or John at 11:25 AM EDT
Updated: Sunday, 11 October 2009 11:36 AM EDT