Today is your birthday...
It's been quite a week. Still VERY hot. And, we had both our first farm birth and first farm death.
On June 30th, our first chick was born.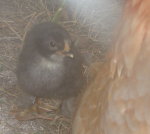 "Golden Girl", who initially didn't seem like an attentive mom, pulled it off. Despite our country's unofficial national breeding program designed to eliminate motherhood and replace it with incubator-hood, this hen found the instincts to be successful. Meanwhile, her colleague didn't do as well. "Carnivore Woman" as we now call her, ate 6 of her embryos. The last one is now sitting under another hen that just went broody. If it doesn't hatch in the next 3 days, her clutch will be a complete loss. But the death of the embryos is not the only death. Golden Girl had one more egg hatch yesterday. I saw the little beak protrude from the shell in the morning. We then went into town. By the time we got home in the afternoon, the chick was completely out of the shell but the hen was ignoring it and it was getting cold. I warmed it up and put it back but the hen accidentally stepped on it while keeping up with her first born. I took it out of the pen and put it on a heating pad but it was dead this morning. It was underweight and may not have been healthy--this may be why she gave it up. Or, it could be the fact that she was a new mom and her instincts aren't fully developed. This, of course, is why most farms have taken the mama out of the equation. Out of 13 eggs, and two hens, we have one chick. However, our hope is that we can selectively brood "motherhood" back into our chickens. One success story is a beginning.
Update: After the new mom abandoned her un-hatched eggs, we put them on a third hen who had just gone broody. She successfully hatched the two eggs and now has two chicks. She's a bit confused that a "sit" of an expected 3 weeks lasted only 3 days, but she seems to be adjusting.
Posted by Roberta or John at 9:12 AM EDT
Updated: Sunday, 5 July 2009 8:23 PM EDT