Where's the beef?
A couple of days ago Walter said something that I've been thinking about since. He said that he keeps hearing about the farm but is wondering when he'll see anything from it. Good question.
We ARE starting to see some benefit from all our work. We have had a fairly steady 4-eggs-per-day, lots of blackberries, about 5 pounds of blueberries so far, 3-4 yellow squash per week for several weeks now, assorted greens. The problem is two-fold: quantity and consistency. This is why we can't use the farmers market and why we feel we can't yet offer anything for sale.
So, how do we deal with these problems? Why don't we plant more? What's the hold-up? The reason is that we are still feeling our way into making sustainability work. We are making good progress with the chickens and hope to offer pastured poultry in the fall. The produce is another issue. Here is a recent example of the hold-up: a possible way to deal with the quantity issue is to have value-added products (such as preserved foods and jams) that can be accumulated into enough volume so that it makes sense to take it to the farmers market. For that, we need a certified kitchen which we are in the process of building. But we want to use the graywater to water the gardens--rather than the non-sustainable practice of putting the wastewater into a giant holding tank and then pumping well water out of the aquafer. However, this is not the standard approach so we have to figure out what can be allowed and how to get permission to do this. Ironically, many of the officials we have queried about this seem to believe we are trying to get away with something--when the fact is that it is more expensive initially to be sustainable. Pumping water from the aquafer is, we have been assured, CHEAP. what IS our problem?!
Note the pictures below of our current watering system. The problem with this system is that it is a capture system that requires rain--but we only need it when it DOESN'T rain.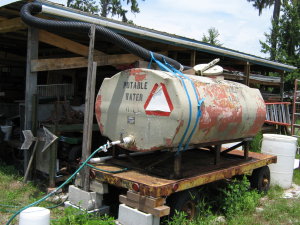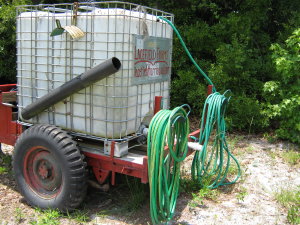 Sometimes we run out.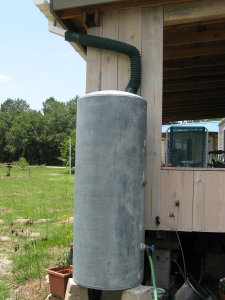 This is just one small piece of the puzzle. There is also the issue of tryng to build our kitchen sustainably with as much recycled and reconfigured materials as possible. This type of construction generally takes more time. Another piece of this sustainable puzzle is that in the past most of my preserving has involved freezing because I like the taste and texture better than canning. However, freezing is not sustainable while traditional canning is. So, I need to learn how to preserve food sustainably.
All of this "stuff" takes time--time away from weeding, hoeing, tilling, tending a garden without chemicals. But all of this stuff is part of the sustainable journey and stuff we need to figure out before we can begin to make a profit and share with Walter the fruits--and vegetables--of our labor.
Posted by Roberta or John at 12:34 PM EDT
Updated: Monday, 15 June 2009 10:27 AM EDT