Finally...
Well, finally I have started the farm blog. Many times as I have been enjoying the meditation we refer to as "weeding", I've thought about a blog. Something about the random thoughts that appear during weeding remind me of many of the blogs I have read. So, finally, I've taken the first steps in making it happen. Pardon me while, feeling a bit self-conscious, I begin.
Last evening was a beautiful evening--one of those where the temperature is perfect and there is just enough breeze to keep the bugs at bay. We were enjoying the company of the kitties and sitting out among the herb beds when we noticed that Scooter was wallowing in the catnip.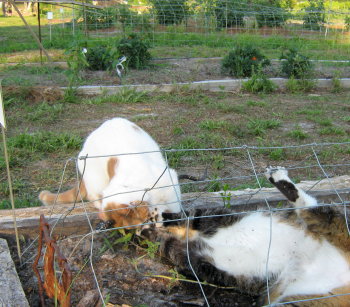 John got up and put a fence around it so Scooter wouldn't completely destroy it. The next thing we knew, Scooter had climbed inside the fence and after battling the forces of evil (known as Macbama),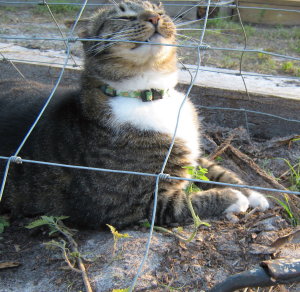 enjoyed the fruits of his illicit labor.
Posted by Roberta or John at 7:42 AM EDT
Updated: Tuesday, 2 June 2009 8:36 AM EDT